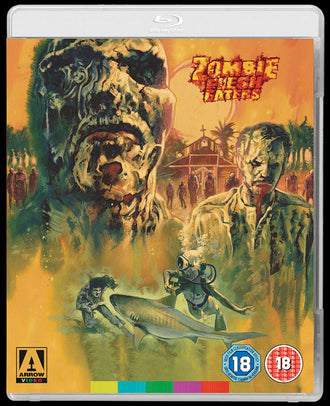 Zombie Flesh Eaters (1979) (Blu-ray)
Regular price
$26.00
Sale price
$20.00
Tax included.
THEY WILL RISE TO SUCK THE BLOOD OF THE LIVING!
From the sleazy video nasty vaults comes a movie so stained with controversy and moral indignation that the very mention of its name sends shudders down the spines of the weak stomached and censorious - Zombie Flesh Eaters. A gut-munching, shark wrestling, eye-gouging orgy of topless skin divers, mud-caked undead terror and Italian splatter from the dark imagination of horror genius Lucio Fulci (The Beyond, City of The Living Dead).
An abandoned boat in New York Harbour unleashes a deadly flesh crazed Zombie cargo... A Young American woman and a journalist investigate a tropical island where a deadly disease is making the dead walk... Soon, thoughts of getting to the bottom of the murderous curse will be forgotten, as Fulci's walking corpses overwhelm the living and reports come in that the Big Apple is swarming with the living dead...
After over thirty years, Zombie Flesh Eaters still has the power to shock and offend the unwilling... Check out this classic 'sadist video' and revel in a wonderfully offensive movie that once helped usher in a moral panic!
STRONG UNCUT VERSION!
The film was sourced from the original Techniscope 2-perf 35mm negative made available by Variety Communications, Italy. The pictures was scanned at 2K resolution and fully graded on a Nicoda Film Master at Deluxe Soho, London. Restoration work was completed in 1080Psf HD resolution using a combination of software tools and techniques. Thousands of instances of dirt, scratches and debris were carefully removed frame by frame. Damaged or missing frames were repaired, and density and stability issues were significantly improved. Throughout the process, care was taken to ensure that the film's original details and grain structure remained unaffected by digital processing. Although every effort has been made to present Zombie Flesh Eaters at the highest quality possible, some minor picture issues remain, in keeping with the condition of the original materials.
Both the original English and Italian mono soundtracks were restored, with audio issues such as bumps, clicks or dropouts removed or repaired. Audio sync to picture remains noticeably loose at times, in keeping with the nature of the film's production.
Lastly, working from the original 2-perf negative has allowed for access to the entire exposed image area of the film, so we have chosen to retain as much of the original frame are possible for this restoration.
Special Features
Brand new high definition restoration of the original negative with optional English and Italian opening sequences
Optional English SDH subtitles on the feature
Audio commentary with screenwriter Elisa Briganti moderated by Calum Waddell
Audio commentary with Fulci biographer Stephen Thrower and horror expert Alan Jones
UK exclusive introduction to the film from Ian McCulloch
ALIENS, CANNIBALS AND ZOMBIES: A TRILOGY OF ITALIAN TERROR: Actor Ian McCulloch remembers his three classics of Latin horror lunacy - ZOMBIE FLESH EATERS, CONTAMINATION and ZOMBI HOLOCAUST
FROM ROMERO TO ROME: THE RISE AND FALL OF THE ITALIAN ZOMBIE FILM: Veteran Fulci screenwriters Dardano Sacchetti (THE BEYOND) and Antonio Tentori (CAT IN THE BRAIN), celebrated UK critic Kim Newman and filmmakers Luigi Cozzi (CONTAMINATION), Ruggero Deodato (CANNIBAL HOLOCAUST), Russ Streiner (NIGHT OF THE LIVING DEAD) plus many more share memories of the genesis of corpse-crunching cinema - from Romero's early templates to the gory glory days of Fulci and his many successors
THE MEAT MUNCHING MOVIES OF GINO DE ROSSI: The special effects magician behind many Italian splatter classics talks about his most famous gore-drenched greats - and shows props from many plasma-packed masterworks - including ZOMBIE FLESH-EATERS, CITY OF THE LIVING DEAD, THE HOUSE BY THE CEMETERY, CANNIBAL FEROX, BURIAL GROUND and PIRANHA II
ZOMBIE FLESH EATERS - FROM SCRIPT TO SCREEN: Dardano Sacchetti shows key pages from his original ISLAND OF THE LIVING DEAD screenplay
Trailers and TV spots
Collector's booklet featuring contributions from Calum Waddell, Stephen Thrower, Craig Lapper and Jay Slater
Reversible sleeve featuring original and newly commissioned artwork by Graham Humphreys
Details
Review
Arrow Video have put together a mighty impressive release for a legendary Italian film that should make a lot of horror fans very, very happy. Arrow Video are most definitely the label that will treat them with the proper respect. HIGHLY RECOMMENDED. - Blu-ray.com 5/5
Other formats and editions